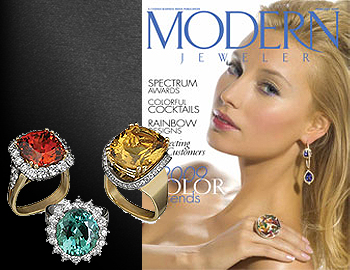 Modern Jeweler
2009 Color Trends
Modern Jeweler
2009 Color Trends
Ellen Lacy, Lacy & Company, El Paso, Texas What I Buy: "My first love is color, and not just color, but really pretty jewelry. One designer who does beautiful, excellent, mouthwatering colored gemstones that can really bring a tear to my eye is Jean-Francois Albert. Previously I didn't buy a lot of his real special items because of the price point, which can range from $20,000 to $50,000 retail. But lately I have been, and it's selling well."

How I Sell It: "JFA virtually sells itself because buyers see that he uses aquamarines, tourmalines, and other colored stones and makes it seem that you're seeing them for the first time. All of his stones are one-of-a-kind, you'll never see any of his gems look quite like another. I don't get too wrapped up in anticipating what customers will buy. I buy the very best I can, then make them love it, too, by seeing how much the jewelry moves me."

2009 Forecast: "In December, which was an unspectacular month for us, colored stone jewelry was up 53 percent; 31 percent for the entire year. So, we're going to run that horse until it can't run anymore. We expect the category to do pretty well for us."

Rings in 18k gold and diamonds featuring from left: 13.65 carat spessartite garnet, suggested retail $37,500; 8.73 carat oval green tourmaline, retail $48,500; and 14.14 carat golden beryl, retail $10,500, all by Jean-Francois Albert for JFA Designs, (800) 621-7082.